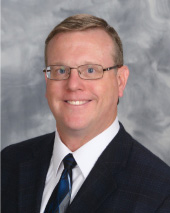 Dr. Bob was born and raised in Des Moines, Iowa. He grew up as the youngest of five siblings and step-siblings.
He attended high school at Des Moines' Theodore Roosevelt High School. He attended Drake University in Des Moines, and received his undergraduate degree in Pre-Dental Biological Sciences. He received his dental training at the University of Iowa College of Dentistry, where he received the Doctor of Dental Surgery degree in May of 1985.
He practiced in Des Moines for more than 14 years before moving to Minnesota with his wife, who is from the New Hope/Plymouth area.  He practiced for 8 ½ years at another practice in Lakeville, and 2 years in Faribault before opening Miller Comfort Dental of Lakeville.
Dr. Bob now has over 32 years of professional experience. This includes over 27 years of private and group practice, and over 5 years as the Dental Director of a not-for-profit children's clinic in Des Moines. He also served for 11 years on the Des Moines District Peer Review Committee, an investigative committee for the Iowa Board of Dental Examiners.
Dr. Bob grew up inspired by his father and grandfather to choose a career where he could work with his hands and help people. His greatest professional mentors at that time were two dentists in Des Moines that he has known most of his life, and who were and are highly respected general practice dentists.
Dr. Bob is proud of his tenure at the Des Moines Health Center. The DMHC is a not-for-profit clinic that provides primary medical and dental care for the children of low-income working-class families. While at the DMHC, he was responsible, along with the administrative director, for implementing a private-practice model and efficiency into the dental clinic. He helped to develop and implement an in-school mobile sealant program, and helped to bring a pediatric dental resident to the DMHC.
In 1988, he was invited to be a member of the Des Moines District Peer Review Committee, where he was involved in investigating and researching complaints of clinical competency made to the Iowa Board of Dentistry against practicing dentists. He left that assignment only because of his move to Minnesota.
Dr. Bob married his wife Kim in 1998. Kim is a clinical pharmacist for a pharmaceutical benefits management company. They have two young children who keep him both young and old at the same time. He is involved in their sports and academic activities. Dr. Bob also has two grown children living in the Des Moines area. His older daughter works for a large national financial and banking institution. She and her husband have a beautiful young daughter, who is keeping her older brother occupied!  Dr. Bob's older son owns his own business in  technology repair in Ankeny, IA. His shoppe has repeatedly been voted best in its class in the Des Moines metro area!
Dr. Miller loves to work with his hands in his spare time. He enjoys yard work and landscaping. He is a die-hard sports-fan-for-life. He played softball for over thirty years before hanging up his glove and cleats.  He has recently achieved his 3rd-degree Black Belt in Northern Shaolin Kung Fu. He spends most of his sports time following his son's soccer team, and cheering his daughter on in her blooming hockey career.